Mr. Lo is a senior HR with more than 10 years of experience, familiar with HR management processes and compensation and benefits, has worked in enterprises of different sizes, and has used different HR systems to manage employee files(P File) and calculate attendance data and payroll.
Before he tried to use the HR system, he worked for a medium-sized retail company, using an old school CS-type HR software. This software server and database is installed in a room, each user needs to install an application on their own computer.
When Mr. Lo chose this CS-type system, he paid the software company a one-time fee of more than HKD100,000 to purchase the access rights of only 10 headcounts. But when using the system, often due to a network error or computer issues and other reasons, he needs a technical person to do the maintenance. Once, the server was hacked to cause the system to crash, IT staff spent a lot of time to help reinstall the system to make it work. 
Many employees need to work from home due to the COVID-19 outbreak, for those who used to work on desktop computers now have to switch to a laptop and reinstall their working applications or use other remote tools to link to work on corporate computers. The use of the system causes more and more problems, IT staff are busier and busier. In order to improve management efficiency, the company wants to re-select the HR system.
Mr. Lo found many of his peers mentioning the SaaS HR system when he searched the Internet, and he wondered what advantages it had over traditional HR systems.
---
What is SaaS HR?
SaaS, often called "software as a service", the traditional one-time sales software model into a paid direct use of the service model. Enterprises do not need to buy hardware and software, building rooms, or recruit IT staff to do the maintenance, buying packages, paying annually or monthly based on the needs, and can directly start using the software. Therefore, enterprises like to buy Saas HR systems as buying a service.
SaaS HR software vendors deploy HR software that would otherwise need to be installed in an in-house room on the network, by replacing physical objects with products that run online, saving the company space and operating costs. The vendor is also responsible for a range of services, from updated versions to bug recovery, and is the same as using mobile programs, requiring only the URL to open, enter a username and password to log in and start using them.
---
But, will you worry about some features disappearing because you don't have a physical object?
Don't worry! Traditional software has features SaaS software have, and charges also closer to the real needs. When you first start using the system, you can select only a few of these modules as needed, and if you find it user-friendly in the future, can consider whether you transfer all your internal employee files to the new system.
Benefits of cloud HRM system
Technical aspects: SaaS HR suppliers are generally composed of professional technical teams, specializing in technology, in order to better capture the market, they speed up the product iteration, so SaaS HR software is the latest cutting-edge technology.
Costs:
Pay as an enterprise needs, start or suspend using the system at any time
Pay monthly or yearly, without having to invest a lot of money in one go
Get the latest hardware platform and the best solution timely without considering cost depreciation
Management: No need to hire IT staff for maintenance, ease the pressure on the human and financial costs to a large extent, so that enterprises can make good use of funds to operate the core business.
SaaS HR system can free HR from hardware maintenance, just focus on the user experience of the software. The starting cost is low, can stop using it at any time. These advantages make SaaS HR systems slowly replace the traditional software and believe that in the future market, SaaS HR software will occupy a dominant position.
---
Workstem is a SaaS HR software that you do not need to worry about maintenance and updates from the beginning of use. Spend less money and you can complete the P file, payroll, leave management, attendance management, MPF, and taxation in one platform, helping you achieve electronic and automated processes that dramatically reduce the amount of manual work.
---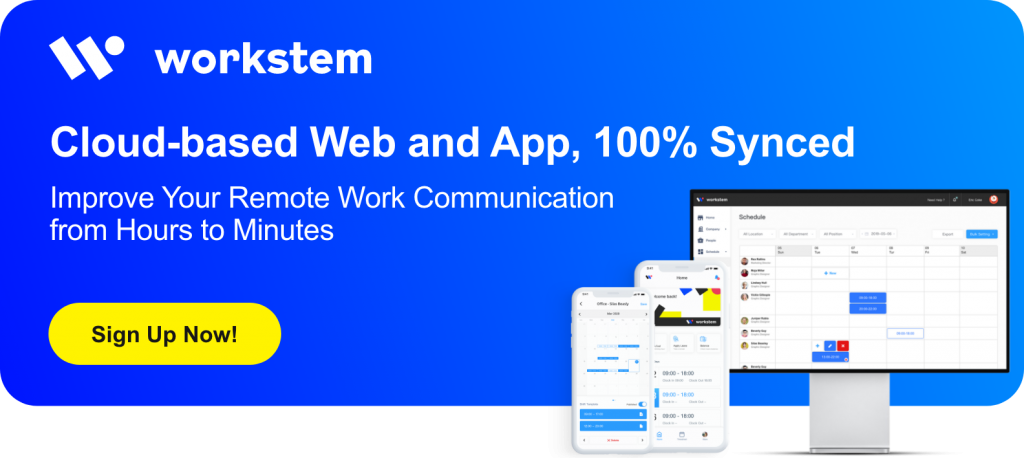 ---
(The article on this website is intended to be for reference and general information purposes only. Workstem does not warrant or represent that such information is complete, accurate or up to date. It should not be treated as a complete and authoritative statement of law or court practice, or a substitute for professional legal advice.)