Mr. Lo is a senior HR with more than 10 years of experience, familiar with HR management processes and compensation and benefits, has worked in enterprises of different sizes, and has used different HR systems to manage employee files(P File) and calculate attendance data and payroll.
With the COVID-19 pandemic changing lives, many companies turned to remote work as the new normal. Some employees who used to work on office computers now have to switch to their personal laptops to install certain programs or use other remote tools to connect to the company's internal systems to work.
The shift is, of course, jarring to many as some industries are not equipped for remote work. One industry that has seen problems with this change is the HR industry, especially those who are still using traditional HR software. This software server and database are installed in the computer room, and each user needs to install the client program on his computer.
Normally, there wouldn't be any issue with these softwares, as they still work fine in the right environment. However, these systems are becoming more and more easier to hack into and are requiring more technical expertise to maintain and repair. During a pandemic where many are working from home, it becomes an issue to use such a system as there may not be enough technical support to help companies out.
The hassle of traditional systems and the pandemic creating a new normal has thus prompted companies to review their internal operations and reselect their HR systems. Particularly, many have begun to look at SaaS HR systems as the new alternative and standard.
What is SaaS HR?
"Software as a Service," or SaaS, is a method of delivering software through the internet. Through SaaS, enterprises don't need to purchase any additional hardware to build specialized computers or to recruit dedicated technicians to use a certain software. Company leaders simply buy what software would best suit their employees' needs and budget and they can immediately start using it. In most cases, SaaS is paid for following a certain interval on a subscription basis which is how SaaS is purchased as a service.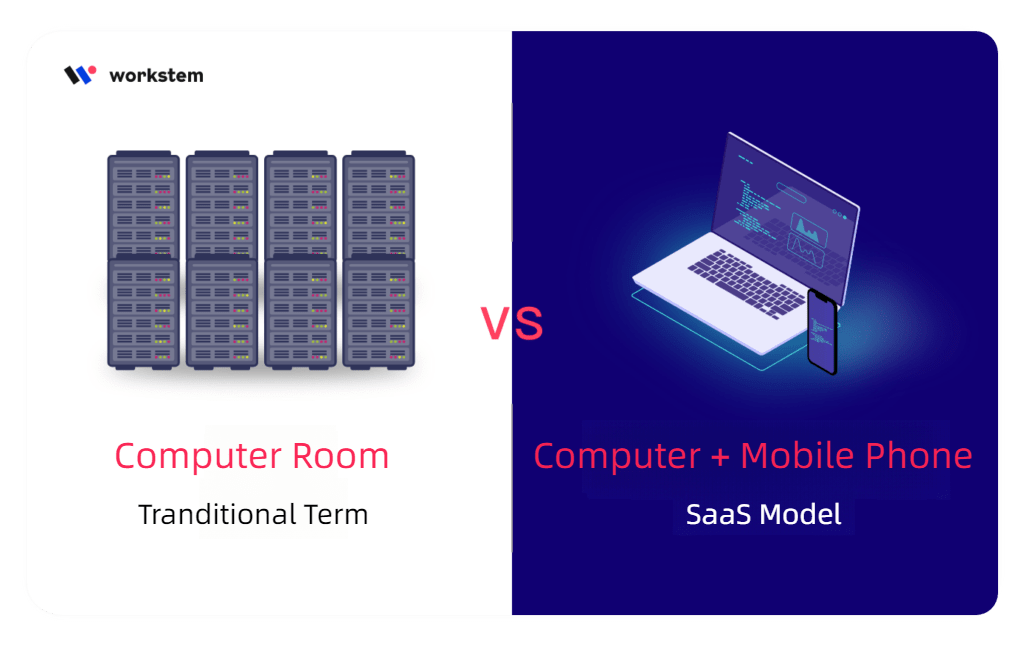 SaaS HR systems operate on this same principle. These software meant for HR professionals help automate day-to-day administrative tasks. Some tasks SaaS HR systems help with are organizing payrolls, managing employee attendance, and sorting other employee-related data.
SaaS HR softwares can replace and work better than older, more traditional software. These modern software have all the functions of traditional systems and are more adaptable to the changing times. These software updates are also dependent on its users' needs and concerns, and so they are constantly on the rise to improve.
SaaS HR vs Traditional HR
Unlike traditional HR systems, a SaaS HR software is more flexible and can replace multiple specialized applications. Also known as "Cloud HR," SaaS HR systems are hosted on the internet, thus helping you save space and operating costs as it can do many tasks on its own. Being reliant on the internet, also means that updates to the software would be automatic and all its users need to do is let it run its course.
SaaS HR software is also constantly evolving. SaaS HR software suppliers are usually composed of professional technical teams who are updated with the latest digital trends in order to update their softwares accordingly. While traditional HR system suppliers are also composed of professionals, they do not adapt to the ever-changing needs of the market quite as fast.
During the pandemic, SaaS HR software is also becoming more important than ever. Cloud-based technologies were already beginning to gain attention pre-pandemic, but when quarantine measures were implemented, many companies transitioned towards them almost immediately for the long-term. SaaS technology, in addition to being safer, can be used even away from an office, which has been the case for many during the time of COVID-19.
Value for money
Compared to traditional HR systems, modern SaaS HR systems also come out cheaper and more cost-efficient for companies. Most SaaS HR system packages have company leaders starting with a basic package before they progress higher or make modifications to their package as they see fit. Companies can also stop and start using the software whenever they feel like it or depending on their tasks. These packages work on a "pay for what you need" model, unlike traditional softwares where people have to buy a license first before use, which is less cost-efficient in comparison.
Flexibility and functionality
SaaS HR systems are also more flexible in nature compared to traditional HR systems. SaaS softwares can be accessed on any device as long as it can connect to the internet, meaning it can work both on personal and company-provided computers. This also means said softwares can be accessed on mobile phones depending on the providing company. Having cloud storage also means that employees and employers alike can have access to the same things and could work remotely without having to rely on one another. SaaS systems also offer multiple functions that can be tweaked accordingly depending on the company's specific work and policies.
Additionally, software providers offer clients the options to pay monthly or annually, among other flexible payment terms. The fact that SaaS HR systems only need a stable internet to function saves the company a lot of money, as the money needed will only go into investing in good internet. This allows companies to have more budget for other important things.
If you're looking for a good SaaS HR system, you can approach Workstem. With Workstem, you don't have to worry about maintaining or properly installing the system; all you need to do is run it and modify it depending on your businesses' needs. You can compute the amount of working hours done by personnel, their salaries, vacation leaves, attendances, MPF, and tax in one platform with little effort for a low cost. Investing and making the switch to a SaaS HR system like what Workstem offers can help you realize the importance of electronic and automated processes today, especially during a pandemic.
SaaS HR systems are relevant not only during this pandemic but in the future as well. These systems will be instrumental in creating a more efficient HR industry that can adapt to changes with little problems. With HR systems like Workstem around, HR managers can work from anywhere without compromising the quality of their work or the welfare of their employees, even during these trying times.