The attendance system is used for time tracking of employees in the company. It can record whether the employees are late, absent from work, overtime and applying for leave in an electronic way.
Traditional attendance systems, such as paper, smart card, and biometric fingerprint machine, are not very easy for daily management, for example:
Install attendance app
Purchase attendance machine and other hardware equipment
Unable to calculate attendance data
Clock in/out data can not be synchronized to the computer in the real-time, so need to enter attendance data manually to the computer
Under the COVID-19, especially the use of traditional biometric fingerprint machines will also increase the risk of exposure to the virus! With the progress of communication technology in recent years, the popularity of smartphones, people are inseparable from mobile phones, so mobile attendance is more acceptable. What's the difference between a modern attendance system and a traditional clocking-in machine?
Features:
| | | |
| --- | --- | --- |
| | Mobile App + Cloud-based Attendance Platform | Traditional Attendance System |
| Real-time time tracking (late / early leave) | ☑️ | ✖️ |
| Auto-calculate working hours | ☑️ | ✖️ |
| Prevent cheating on clock in/out | ☑️ | ✖️ |
| Fieldwork clock in/out | ☑️ | ✖️ |
User experience:
| | | |
| --- | --- | --- |
| | Mobile App + Cloud-based Attendance Platform | Traditional Attendance System |
| No need to install app in computer | ☑️ | ✖️ |
| No need for servers / hardwares | ☑️ | ✖️ |
| Zero setup / maintenance fee | ☑️ | ✖️ |
Modern way to clock in/out
Using Workstem App, no need for servers or hardware! After the employee logs in with his / her account, tap the button, and then clock in/out, the employer may see their location and working time anywhere, anytime.
Employees can check out their attendance information on the Staff App themselves. If they are not sure whether they have successfully clocked in or are they late, they don't need to go to ask the employer. 
For the company, it saves costs. For employees, there is no need to wait in front of the traditional clocking-in machine, reducing the chance to contact many people and avoid bacterial and viruses.
---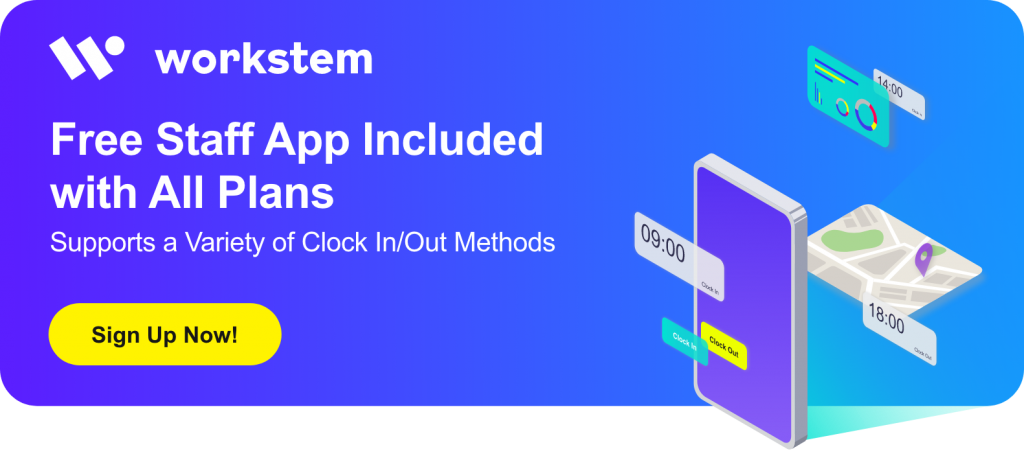 ---
(The article on this website is intended to be for reference and general information purposes only. Workstem does not warrant or represent that such information is complete, accurate or up to date. It should not be treated as a complete and authoritative statement of law or court practice, or a substitute for professional legal advice.)