What is payroll?
Payroll Hong Kong
All remuneration, earnings, allowances (including transportation allowances, attendance allowances, commissions, overtime pay), tips and service charges, regardless of their name or method of calculation, paid in money by an employer to an employee for work done or to be done. End-of-year payment, maternity leave pay, paternity leave pay, severance payment, long service payment, sickness allowance, holiday pay, annual leave pay and payment in lieu of notice are calculated according to the above definitions.
Wages are due at the end of the last day of the wage period and the employer must pay all wages to the employee as soon as possible and in no event later than 7 days after the end of the wage period. If the employer fails to pay wages on time, he must pay interest on the back wages to the employee.
Why is payroll important?
Payroll is the return of employees' work and compensation for employees' labour consumption. The payroll level not only affirms the value of employees, but also directly affects employees' living standards. Therefore, there is no room for error in payroll calculation.
Accurate payroll not only reflects the professionalism of the enterprise, but also enhances employees' confidence. Employers should not only ensure the basic life of their employees through accurate payroll and pay on time, but also need to adapt to the all-round development of society and employees to establish an appropriate payroll policy.
What is payslip?
That is, the documents that accurately and clearly indicate the payroll details of the employees.
What does a payslip look like?
Payslip Hong Kong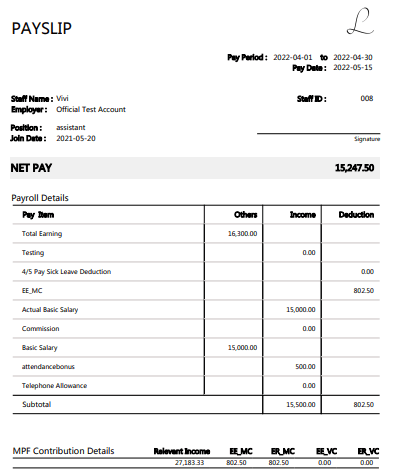 What is payroll statement?
Integrate payroll data of one or more periods according to the displayed pay items set in the payslip.
Workstem
The core of payroll is "accuracy", However, it is difficult to ensure the accuracy of the basic salary, actual working hours, leave days and more basic data. What's more, HR should double check whether the variable pay items such as commission and allowance are in line with the payroll policy, whether the MPF contribution deduction is correct, etc. It can be seen that the accurate payroll is more difficult than we thought.
Workstem has a built-in AI engine to integrate payroll module with onboarding, scheduling, attendance and leave modules. Except for the ADW tracking and calculation on the basis of the Employment Ordinance and MPF contribution calculation, the AI engine will automatically extract the employees data from all modules to guarantee the accuracy of payroll.
After the payroll calculation, employers can choose any one of HSBC, Hang Seng, Bank of China, Standard Chartered, East Asia, DBS and other banks to pay with Autopay. Besides, employees can check their payslips via Workstem One App, which is in line with the standard format of Hong Kong payslip to make the payroll management completed in one step.
Read more:
Top Common Payroll Mistakes & How To Avoid Them
Payroll & HR System VS Excel