In recent days, the severity of the COVID-19 is even worse than February, and more and more people are getting infected. The Chief Executive of the Hong Kong Special Administrative Region, Carrie Lam, recently said that she would use the"Anti-epidemic Fund" to do the free COVID-19 test for people in homes for the aged, catering industry, property management, and taxi drivers, so as to find out the invisible patients in the community as soon as possible. The community urges citizens to see a doctor if they feel uncomfortable to avoid becoming invisible or asymptomatic patients and reduce the risk of transmission.
At present, many companies in Hong Kong allow employees to apply for paid sick leave, and some companies do not even require their employees to provide medical certificates.
However, some companies have made it clear to employees that if an employee wants to take a day's sick leave, it will be regarded as applying for no pay leave, and will deduct the salary, annual and monthly good attendance bonus. That makes employees sad.
Does the Employment Ordinance(EO) clearly state how many days of paid sick leave employees can enjoy? In this case, does the employer really have the legal right to deduct the employee's salary and good attendance bonus?
According to the EO, an employee can be entitled to a sickness allowance of four-fifths which is a sum equivalent to four-fifths of the average daily wages earned by himself, the sick leave taken is not less than four consecutive days supported by an appropriate medical certificate.
If an employee applies for less than 4 days' sick leave, the employer has the right not to pay salary and deduct the good attendance bonus. However, when the employee's absence from work to attend a medical examination in relation to her pregnancy, post confinement medical treatment, or miscarriage is supported by an appropriate medical certificate, any such day on which she is absent shall be counted as a sickness day, and no need to limit for four consecutive days.
Employee's Eligibility for Sickness Allowance
An employee who has been employed by his employer under a continuous contract for a period of 1 month or more immediately preceding a sickness day shall be paid by his employer's sickness allowance.
How to accumulate paid sickness days?
An employee can accumulate paid sickness days after having been employed under a continuous contract. Paid sickness days are accumulated at the rate of two paid sickness days for each completed month of the employee's employment during the first 12 months, and four paid sickness days for each completed month of employment thereafter. Paid sickness days can be accumulated throughout the whole employment period, but shall not exceed 120 days at any one time.
Workstem —— HR system can automatically calculate the balance of paid sick leave for each employee according to the employee's join date and know whether the employee enjoys the sickness allowance when they apply for it!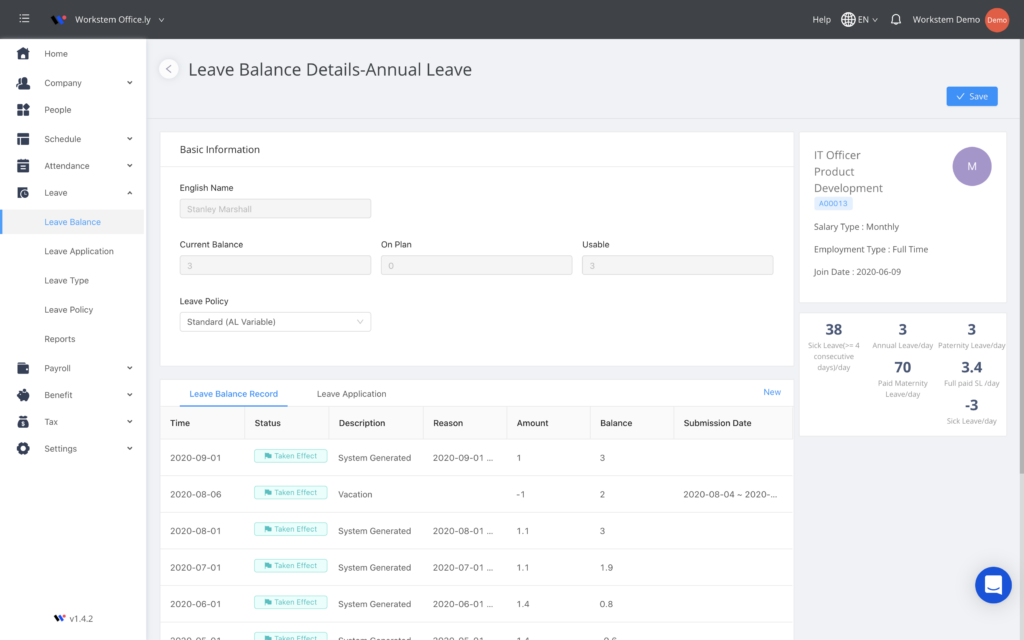 If the sick leave taken is less than four consecutive days, the employer has the right not to pay sickness allowance. In other words, if a company is willing to pay sickness allowance to employees on sick leave of less than four days, it is an additional benefit under the law.
An employee shall not be entitled to sickness allowance under the following circumstances:
the employee, without reasonable excuse, refuses treatment by a company doctor of a medical scheme recognised by the Director of Health or disregards the advice of the doctor;
the sickness day falls on a statutory holiday on which the employee is entitled to holiday pay
Note: When an employee takes a work injury leave, then the compensation is payable under the Employees' Compensation Ordinance.
Read More:
Can Employees Get Paid Sick Leave After Being in Quarantine or Confirmed With Covid-19?
Can Employees Get Compensation for Work-related Injuries if They Are Confirmed With Coronavirus at Work?