2023 is around the corner, and the Hong Kong government has announced the public holidays of Hong Kong for 2023. There are many opportunities for employees to have long vacations in 2023, so you can start planning trips! However, employers also need to make preparations earlier to deal with the shortage of manpower during holidays.
Let's take a look at the public holidays for 2023 first!
Public holidays for 2023
The following list of general holidays for 2023 is gazetted for public information:
Every Sunday

 

Sunday

The day following the first day of January

2 January

Monday

The second day of Lunar New Year

23 January

Monday

The third day of Lunar New Year

24 January

Tuesday

The fourth day of Lunar New Year

25 January

Wednesday

Ching Ming Festival

5 April

Wednesday

Good Friday

7 April

Friday

The day following Good Friday

8 April

Saturday

Easter Monday

10 April

Monday

Labour Day

1 May

Monday

The Birthday of the Buddha

26 May

Friday

Tuen Ng Festival

22 June

Thursday

Hong Kong Special Administrative Region Establishment Day

1 July

Saturday

The day following the Chinese Mid-Autumn Festival

30 September

Saturday

The day following National Day

2 October

Monday

Chung Yeung Festival

23 October

Monday

Christmas Day

25 December

Monday

The first weekday after Christmas Day

26 December

Tuesday
*As the first day of January and National Day in 2023 both fall on a Sunday, the day following them will be designated as a general holiday in substitution. Moreover, as Lunar New Year's Day in 2023 falls on a Sunday, the fourth day of Lunar New Year will be designated as a general holiday in substitution.
2023 Public Holidays Leave Guide
The time of general holidays is different every year. Workstem has compiled the most comprehensive strategies for asking for leave for the general holidays announced by the government in 2023, and the longest period can be 10 days in a row! Let's have a look!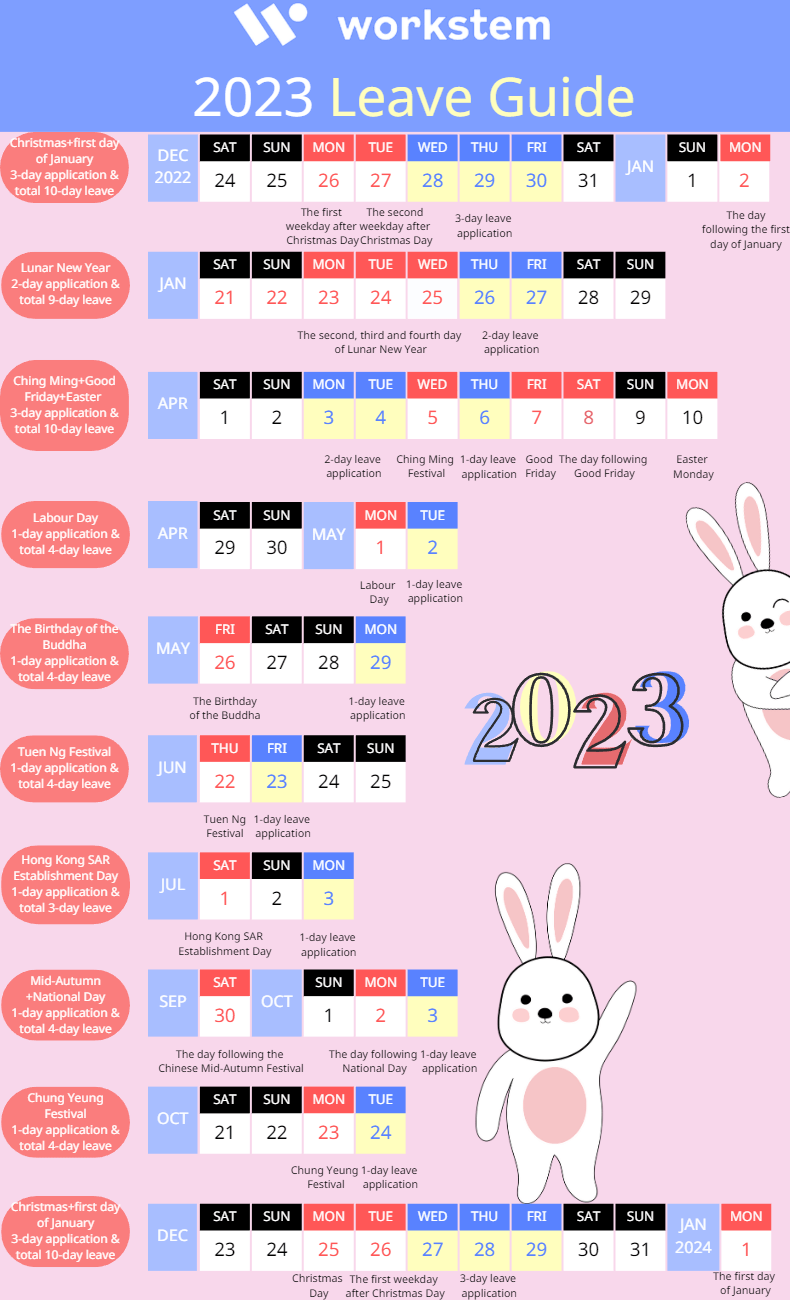 From the above leave calendar, it can be seen that in 2023, employees can ask for up to 3-day leave and have a total 10-day leave. If you ask for 3 days of leave between Christmas and New Year's Day, you can take 10 consecutive days off. Ching Ming Festival, Good Friday and Easter are close in time. If you ask for 3 days off, you can also take 10 days off in a row.
Workstem helps you solve leave management problems
Reading the 2023 general holidays arrangement and leave guide, and sharing the joy and happiness with your beloved friends, plan trips together!
However, in industries such as F&B, retail, and medical, the working hours of employees are not as fixed as that of office employees, they need to work in stores during holidays. Perhaps more employees are needed to cope with peak holiday seasons.
At this time, if an employee asks for leave, the employer/HR/store manager not only needs to handle the leave approval, balance calculation and other matters, but also needs to find someone to replace the shift in time to avoid shortage of manpower in the store. The troublesome approval process and complicated holiday balance have made HR/store managers exhausted.
In addition, the follow-up leave arrangement for working employees and the calculation of statutory holiday payment are even more complicated, and mistakes may occur if they are not careful enough.
As a cloud-based & one-stop human resources management system, Workstem has intelligent leave management, which supports automatic update of Hong Kong public holiday arrangements every year, customised leave policies and leave types, quick application/approval, real-time tracking of employee leave balances, etc.
Besides, the powerful payroll management can quickly and automatically calculate holiday payment through AI engine, and make everyday a payday!