It is the responsibility of the employer to accurately calculate payroll and timely pay their employees. The payroll process typically involves several steps, such as tracking attendance,calculating payroll, verifying reimbursement, and payment, which can be tedious and time-consuming with multiple people involved. Especially for medium to large-sized companies or SEMs with high employee turnover and flexible shifts. Monthly payrolls can be a headache for HR departments.
However, with the support of Workstem and HSBC Business Go, it won't be a headache now.
Workstem has seamlessly integrated with HSBC Business Go, enabling autoPay and becoming the first payroll system in Hong Kong to integrate with HSBC's automatic payment function through API.
Let's take a look at how the autoPay integration can help you!
What is the AutoPay through API integration?
In simple terms, API integration is the ability to connect two applications through a programming interface to exchange data. It's like building a bridge between two platforms so that users can transmit specified information between the two programs without additional operations, and the transmission is encrypted for security.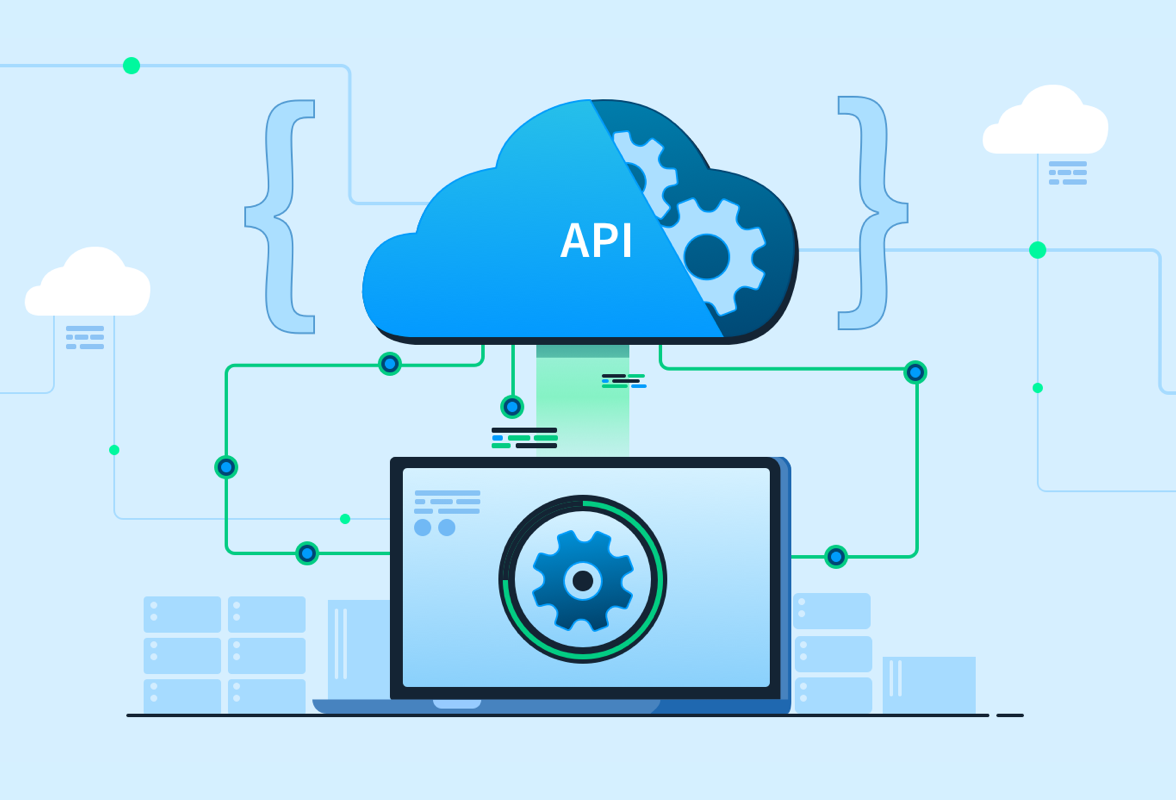 Speaking of this autoPay function, it's like building a specialised bridge between the Workstem system and the HSBC system to retrieve and transmit payroll data.
Through the automatic payment function, on the one hand, the payroll calculation completed in the Workstem system will be retrieved and sent to the HSBCnet system for approval and pay with one click. On the other hand, when the payment is completed through HSBCnet, the status will also be automatically updated in the Workstem system to the "paid" state, and an electronic payslip can be automatically generated. Employees can receive their payslips in real-time through the Workstem One App.
The entire process is digitised, eliminating the need for repeated communication between employees and the downloading, uploading, and transfer of autoPay files among different departments. Payroll has never been so easy!
Conditions and process for autoPay integration:
Conditions
Holding a registered HSBCnet account with HSBC Commercial Banking and a Workstem account at the same time.
Process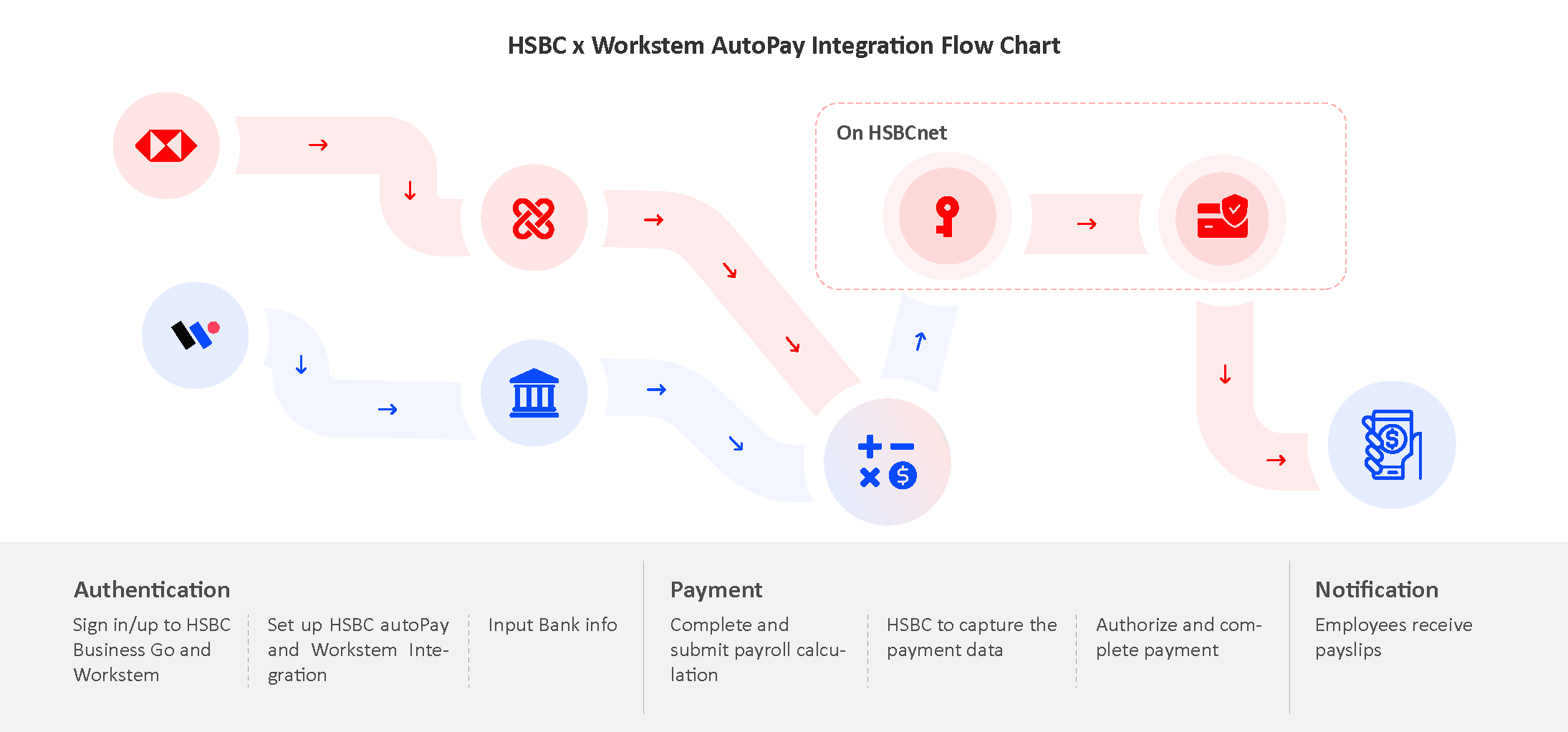 Seamless integrations with 7 steps:
1. Sign in/up to HSBC Business Go and Workstem
2. Set up HSBC autoPay and Workstem Integration
3. Input Bank info
4. Complete and submit payroll calculation
5. HSBC to capture the payment data
6. Authorise and complete payment
7. Employees receive payslips
Why choose an autoPay API integration solution?
As a convenient, efficient, confidential, and secure digital feature, autoPay assists you:
Simplify the payroll, approval, payment, and notification process
Is payroll overloaded? Are errors inevitable when handled manually? Is it a waste of time and manpower to issue payslips one by one?
The autoPay integration helps you retrieve completed payroll data with just one click, update the payment status in real-time, and send electronic payslips to employees through the Workstem One App. With confidentiality and security guarded, the entire payroll calculation and payment process can be completed with just a few clicks. This series of actions are fully automated, not only freeing up manpower and improving efficiency but also greatly reducing human errors and improving the accuracy and reliability of transfer transactions.
Say goodbye to downloading and uploading files and enhance data security
Is it too troublesome to download and upload payroll data timely? Are you worried about employee information leakage during transmission, and the difficulty in ensuring data security?
Personal information, especially payroll information, has always been a sensitive topic. Unlike traditional autopay files, an automatic payment API program can automatically retrieve and transmit payroll data, complete confidentiality work such as data encryption and identity verification. It also eliminates the repetitive download, upload, or inter-departmental transmission work, improves data security, and avoids the leakage of sensitive information, saving effort and peace of mind.
Automatic reminder of payroll status to improve work efficiency
Don't know which step the payroll process is currently stuck in? Is the process too complicated for the finance and HR departments to repeatedly log in to different systems?
By using an automatic payment API program, payroll status can be updated in real-time, achieving real-time notifications and quick processing of payment instructions. Whether it is the submission of autoPay, the approval of supervisors, or the automatic push of electronic payslips, through one platform, it can be easily seen with just a few clicks, eliminating the need for back-and-forth communication.
Dedicated system administrators with clear responsibilities
Are payroll and payment handled by different departments/colleagues? Is the confidentiality of payroll data highly required?
Companies can assign dedicated personnel to independently manage the Workstem and HSBCnet platforms. One person is responsible for submitting payroll requests in the Workstem system, while another person is responsible for approving payment requests in the HSBCnet system. With clear responsibilities, each person can focus on their own duties.
Don't have an HSBC business account yet? HSBC provides dedicated services for you.
Want to try the autoPay feature right away? Remember to prepare your HSBC business account!
If you already have an HSBC Business Go account, simply go to the this page and click "Get Started" at the top. Use your HSBCnet's username and password to log in.
If you don't have an HSBC Business Go account yet, with this link, you can apply for one and register for HSBCnet. Our staff will follow up with you on account opening and subsequent application matters.
Workstem helps you with digital transformation
As the leading one-stop payroll and HR management system in APAC, Workstem gathers 11 essential modules for daily company management. It not only stores complete company and employee P-file data, but also accurately calculates attendance, leave, payroll, MPF, and tax data in compliance with the latest labour laws in Hong Kong.
Through a cloud-based HR management system and AI payroll engine, Workstem covers personalised needs of different industries and enterprises, optimising HR management processes and facilitating digital transformation.
The autoPay API integration is a convenient, efficient, secure and confidential digital tool that maximises the efficiency of payroll calculation and payment processes, greatly enhancing the operational efficiency of enterprises. If you would like to learn more, please click to schedule a demo, and our sales manager will contact you soon.