It's hard to hire, but it's even harder to fire. For HR professionals, employment termination is way more complicated than staff recruitment if the labor contract is not expired. In recent years, many labor disputes revolve around the keyword "Dismissal". Embroiled in a lawsuit or a social media crisis can cause quite a bit of damage to the company's image. So what is the reason that engages companies in dismissal disputes?
In Hong Kong, the Employment Ordinance(EO) is used to protect employees from wrongful dismissal. The first thing we should know is the worst possible scenario when firing an employee, and under what circumstances can the employee claim compensation from his or her employer. This relates to severance payment, payment in lieu of any untaken leave, and etc. If your HR department is not familiar with these regulatory policies, your company is likely to suffer losses or even get sued. So today we're going to talk about the 4 tips every employer should know about when it comes to dismissing employees.
The employment contract must comply with the EO and be clearly stipulated
No matter the employee is temporary, part-time, or full-time,HR should always stipulate a comprehensive employment contract to protect the rights and interests of the company and the employee, whether to keep or dismiss the employee. The contract should comply with the EO to avoid labor disputes.
There is a post on the Internet that an employee's contract expires after the holiday. His employer lets him have an early holiday so that the notice period can be shortened and he doesn't have to pay any compensation. Is the boss really so concerned about his employee that he wants to relieve them from the hell-like job?
Under HK Legislation chapter 57, the EO, if an employee is employed under a continuous contract and he is within the first month of probation, his employer can terminate employment at any time without giving notice beforehand. However, after the first month of probation, or the probation period has ended, or there is no probation period, to terminate employment, either the employer or the employee, they will need to give the other party no less than 7-day notice or offer payment in lieu of notice.
So what is "Payment in lieu of notice"? It is a concept in Hong Kong and Taiwan that when a company tries to dismiss an employee and decides not to give a notice beforehand, a payment will need to be made to the employee by the employer for the notice period. Usually, it's a salary of 7 days or one month.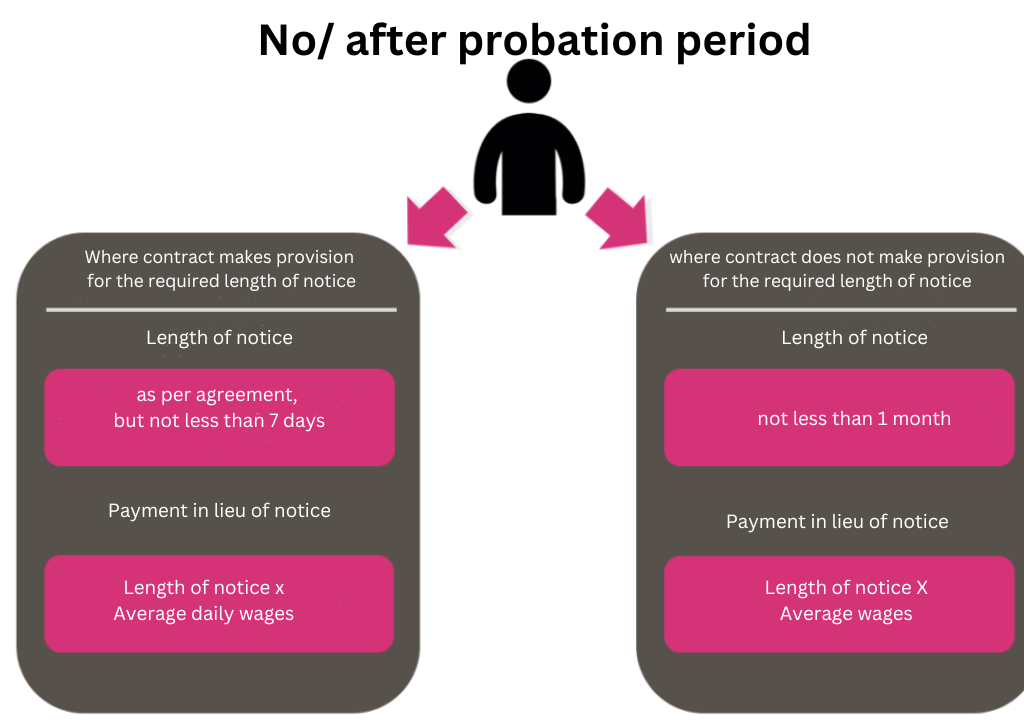 Especially for long-serving employees,payment in lieu of notice not only includes basic salary, but also commission, allowance, attendance bonus, year-end bonus, and etc. The way in which an employee is dismissed will affect the amount of MPF and long service payment he can receive. The salary calculation and dismissal notice period will need to comply with the company's policy, the EO, and the employee handbook.
Furthermore, many companies focus on the capability and devotion of their employees and some employees can become quite different people in work compared to their interview impression. Or the employee may have the idea of quitting when they realize the differences between their imagination and the job's actual scope of work. The probation period provides an "observation period" for employers and employees to get to know each other and spot issues early in the process to minimize possible losses. Outside the probation period, the employer should negotiate with the employee and specify a notice period in the labor contract, so as to avoid unnecessary disputes when it comes to dismissal.
Can an employer summarily dismiss an employee?
As we've said, the standard dismissal procedure is: 1) The employer gives the employee a notice and terminates the employment after the notice period ends; 2) A payment in lieu of notice is made to the employee and the employment is terminated immediately.
In the following scenarios, the employer or the employee can terminate the employment immediately without a notice period or payment in lieu of notice.
When the employee:
wilfully disobeys a lawful and reasonable order;
misconducts himself;
is guilty of fraud or dishonesty; or
is habitually neglectful in his duties (exclude taking part in a strike)
reasonably fears physical danger by violence or disease;
is subjected to ill-treatment by the employer; or
has been employed for not less than five years and is certified by a registered medical practitioner or a registered Chinese medicine practitioner as being permanently unfit for the type of work he is being engaged.
In the following 5 scenarios employers are not allowed to dismiss employees: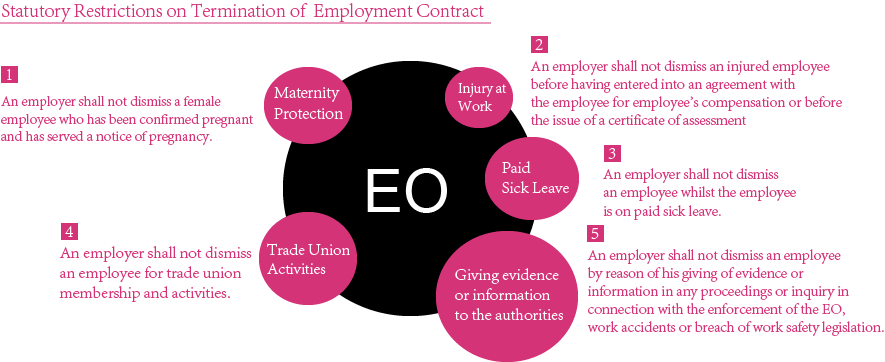 This probably is the most controversial part. The Hong Kong Employment Ordinance states:" Summary dismissal is a serious disciplinary action. It only applies to cases where an employee has committed very serious misconduct or fails to improve after the employer's repeated warnings."
Employee John Doe joined the company 8 years ago and was promoted to the director of the company. His boss once said:" As long as the money you get from selling the machine is enough to buy our guys dinner." When the boss was not in Hong Kong, John Doe sold 2 old grinding machines that were no longer in use at a low price of HK$4000. The boss later fired John Doe for gross negligence and John Doe then sued the company and received a compensation of HK$160,1000.
(*The contents are for reference purposes only and do not constitute legal advice)
How can we tell if a summary dismissal is based on valid reasons, rather than causing disputes and compensation as in the above case? A safer way is to consult experts or consultant firms to see if the employees' capabilities and behavior meet the needs of the company from the perspective of a third party, so as to decide whether to dismiss the employee summarily and avoid damaging the company's image.
Severance Payment and Long Service Payment
Depending on how the employment is terminated, long service payment or severance should be paid to the employee. What's the difference?
Under Chapter 11 of the EO, an employee is eligible for severance payment if he is under a continuous contract for not less than 24 months and meets the corresponding conditions;
An employee is eligible for long service payment if he is under a continuous contract for not less than 5 years and he is not summarily dismissed due to his serious misconduct or his dismissal is not by reason of redundancy. As we've said in the first part, how the employment is terminated will affect the long service payment an employee can receive. If he is summarily dismissed by his employer, he could lose long service payment.
It is within employees' right to timely receive reasonable severance payment or long service payment. When dealing with termination of employment, the employer should work out the employee's years of service and wages through HR to calculate the payment. The payment should be made to the employee or his family within three months (severance payment) or seven days (long service payment) after the date of termination of employment contract. Otherwise, the employee is liable to prosecution and, upon conviction, to a fine of HK$50,000 (severance payment) or to a fine of HK$350,000 and to imprisonment for three years (long service payment).
The following formula applies to the calculation of both severance payment and long service payment

Monthly-paid employee

(last month wages X 2/3) X reckonable years of service

Daily-rated employee

(any 18 days' wages chosen by the employee out of his last 30 normal working days) X reckonable years of service

Service of an incomplete year should be calculated on a pro rata basis. 

An employee may also elect to use his average wages in the 12 months immediately preceding the termination of employment contract for the calculation; the sum should not exceed 2/3 of HK$22,500 (i.e.HK$15,000).
Termination Payment
The items and amount of payments payable to an employee on termination of employment depend on a number of factors such as the length of service, the terms of employment contract, and the reason for termination of the contract. For quick reference, termination payments usually include:
outstanding wages;
payment in lieu of notice, if any;
payment in lieu of any untaken annual leave, and any pro rata annual leave pay for the current leave year;
any outstanding sum of end of year payment, and pro rata end of year payment for the current payment period;
where appropriate, long service payment or severance payment;
other payments under the employment contract, such as gratuity, provident fund, etc.
An employer is required to pay interest on the outstanding wages due to the employee if he fails to pay wages to the employee within seven days, except for severance payment, after the termination or expiry of contract. An employer who wilfully and without reasonable excuse fails to pay termination payments when they become due is liable to prosecution and, upon conviction, to a fine of HK$350,000 and to imprisonment for three years.
How to make your company manage these tasks more effectively?
After reading these, do you agree HR work is not easy? Not only to manage all kinds of administrative work, but also to do all the calculations when an employee leaves his job. Being proficient in the Employment Ordinance is also very important because you don't want to accidentally break the law. In this case, why not consider consulting experts or consultant firms, or even outsourcing your administrative work of HR Management to an experienced company such as Workstem. We will greatly reduce your company's cost in HR & administration!
Read More: How to Calculate the Notice Period When Dismissing an Employee?