A good scheduling system is an important foundation for restaurant operation, but there is a lot of attention to scheduling,which makes the restaurant operation become very chaotic. I once met a restaurant owner who had an "interesting" salary schedule for his employees. Some full-time employees took four days off a month, while others took five, six, or even seven days off a month. In short, each employee had a different number of days off, and the less time off, the higher their salary. It looks elastic, right? In fact, this can be very difficult for the restaurant business, because although it is convenient for the employees, the employer has to worry more about scheduling, especially when there is a statutory holiday, there is no one to turn up. So what can you do to schedule efficiently?
What is a statutory holiday?
All employees, irrespective of their length of service, are entitled to the following 12-day statutory holidays:
1st January
Lunar New Year
The Second day of the Lunar New Year
The Third day of the Lunar New Year
Tomb-Sweeping Day
International Workers' Day (1st May)
Birthday of Buddha
Dragon Boat Festival
Hong Kong Special Administrative Region Establishment Day (1st July)
Day following Mid-Autumn Festival
Double Ninth Festival
National Day (1st October)
Winter Solstice or Christmas (at employer's option)
* If a statutory holiday falls on an employee's rest day, the employer should make up the rest day on the day following the rest day.  Such compensation leave shall be a day other than a statutory holiday, alternative holiday, substituted holiday or rest day.
Three things employers should know about Statutory Holidays
[Never substitute money for a holiday]: Under the Employment Ordinance, an employee who has served his employer for three consecutive months is entitled to paid leave on statutory holidays.  An employer who fails to grant statutory holidays to an employee, or makes any payment in lieu of statutory holidays, commits an offence and is liable to a fine of HK$50,000.  If the employer deducts the employee's wages to set off all or part of statutory holiday pay, the employer shall be liable to a fine of HK$100,000 and to imprisonment for 1 year.
[Statutory holidays] are elastic: Every major festival, such as Mid-Autumn Festival, Christmas, and New Year, for some industries, such as the service, retail, catering, etc.. If all employees take a leave, it does have a big impact on the company and the business. Employers can set alternative holiday dates as follows without breaking the law,
Within 60 days before or after any statutory holiday, a separate day (referred to in the regulations as an "alternative holiday") shall be appointed in lieu of such statutory holiday. However, the employer must give notice in writing or orally to the employee, or display such notice in a prominent place at the workplace, not less than 48 hours prior to the statutory holiday or an "alternative holiday".
However, it should be noted that the alternative holiday should not overlap with another statutory holiday, alternative holiday or substituted holiday.  (A "substituted holiday" is a substitute day fixed within 30 days before or after any "statutory holiday" or "alternative holiday" by mutual agreement between the employer and the employer.)
[If a statutory holiday coincides with a rest day]: Some employers mistakenly believe that statutory holidays are superior to rest days if they happen to fall on employees' rest days (i.e., employees are entitled to at least one day off for every seven days worked under the Employment Ordinance) and employers only need to grant statutory holidays.  In fact, according to the Ordinance, employers are required to make up for the rest on the day following the rest day.
How to deal with statutory holidays in catering industry scheduling?
Statutory holidays are often the most lucrative time for the restaurant industry, as well as the busiest time for employees. So what should restaurant owners do in the following situations?
Example 1: A regular restaurant employee: This year's winter solstice falls on Sunday, December 22nd. If the employer chooses winter solstice as the statutory holiday and the employee's rest day falls on Sunday, the employer should let the employee make up the holiday on the next day (December 23rd).
*Note: Such compensation leave shall be a day other than a statutory holiday, alternative holiday, substituted holiday or rest day.
Example 2: Adam works as a cashier in a catering industry. July 1st is Hong Kong Special Administrative Region Establishment Day. Since the day is scheduled for an early shift, Adam told the store manager that he hoped to arrange a rest on July 5th. However, how can a store manager who has never used any human resource management system handle this problem?
Workstem's powerful and rich scheduling functions can help you solve it all!
Add different shift templates: Working day, Rest day, Legal holiday.
Go to [Schedule] > Find the relevant employee [Enter Employee Calendar] > Arrange the employee "Working day" shift on July 1st and "Legal holiday" shift on July 5th through the Shift Template list on the right side of the page.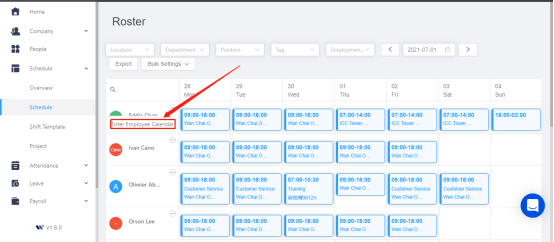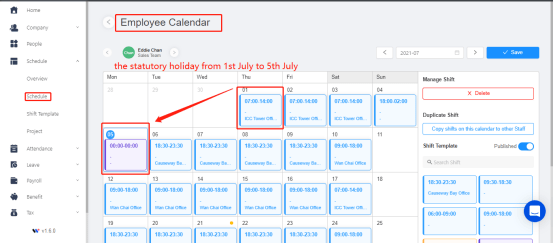 Workstem is a one-stop HR system designed for businesses to help you get out of the HR paperwork. Join now and get a free trial for up to 14 days ! Put down that mountain of paper files and take action now.
Read More: How do Employers Calculate Holiday Pay for Employees?