Award interpretation software is revolutionising workforce compliance in Australia by simplifying complex regulations enforced by the Fair Work Ombudsman.
Manual calculations of employee entitlements are time-consuming and error-prone. This software offers a streamlined solution, making compliance easier and more efficient.
In this blog, we explore why this software deserves the spotlight. Keep reading to learn more!
How does the Award Interpretation Software work?
Award interpretation software is designed to navigate the complexities of workforce compliance in Australia. It automatically calculates employee entitlements based on the Fair Work Act 2009 and the National Employment Standards(NES).
By integrating with HR and payroll platforms, it ensures accurate compensation for your employees, taking into account the specific awards they are subject to.
This software simplifies the process of complying with industrial instruments like Modern Awards or Enterprise Agreements, saving you time and reducing the risk of errors.
Benefits of using the Award Interpretation Software
Automation and accuracy
Award interpretation software can automatically calculate employee entitlements.to eliminate manual calculations, thus reducing the risk of errors and ensures compliance with complex regulations.
This not only saves time but also minimises the potential for legal implications and financial penalties.
Compliance with regulations
Award interpretation software helps businesses comply with labour laws and industry regulations, as well as award rates.
It stays updated with Fair Work to minimise the risk of penalties or disputes related to underpayment or non-compliance, and accurately interprets complex regulations to manage businesses confidently.
Reporting and analytics
Award interpretation software includes reporting and analytics features for generating detailed reports on employee entitlements, payroll costs, and compliance.
It provides insights into wage expenses, overtime trends, etc, helping businesses make informed decisions and optimise workforce management strategies.
How can Workstem help your organisation's performance?
Workstem's award interpretation software has precision calculations and seamless integration capability to ensure compliance with Modern Awards and Enterprise Agreements.
By automating data flow and replacing manual processes, our award interpretation software streamlines administrative tasks and improves efficiency.
Compliance with Fair Work Awards & EBAs
Workstem helps you stay compliant with Fair Work awards and EBAs by providing features that automatically track working days, rest days, and public holidays in rostering.
This helps you avoid duplication or omission, ensuring that you adhere to the regulations set by Fair Work.
By scheduling in compliance with Fair Work awards and EBAs, you can mitigate the risk of non-compliance and ensure a fair and transparent work environment.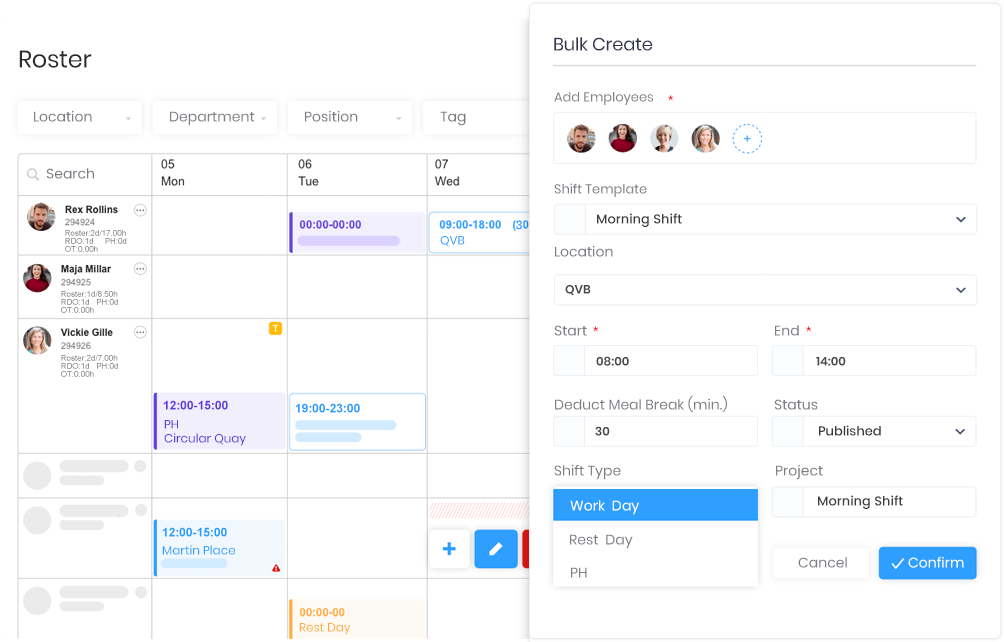 Customisable attendance entitlements
Workstem allows you to customise multiple attendance entitlements, such as overtime rates, penalty rates, and meal allowances, based on the specific awards or EBAs that apply to your organisation.
This customisation ensures that you accurately reflect the unique requirements of your workforce and maintain fairness in your compensation practices.
With Workstem's pre-built and self-editing formulas, you have the flexibility to handle multiple awards, no matter the industry you're in.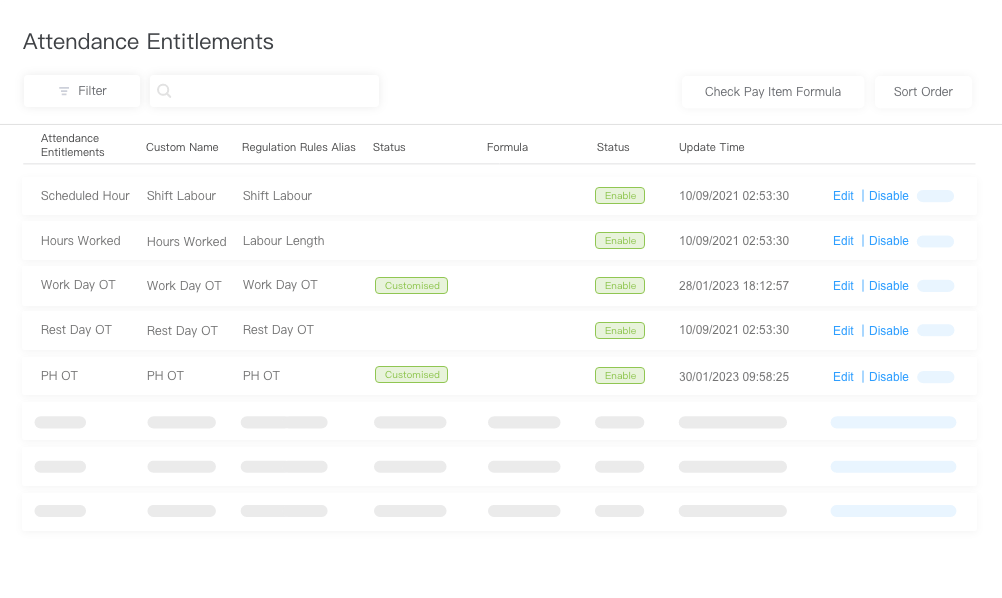 Automated attendance tracking
Workstem simplifies attendance tracking by offering built-in templates and flexible timesheets.
Whether it's tracking overtime, leave, absence, or overtime on holidays, Workstem's automated system makes it quick and easy to keep an accurate record.
This automated tracking not only saves time but also ensures that your payroll calculations are precise and error-free.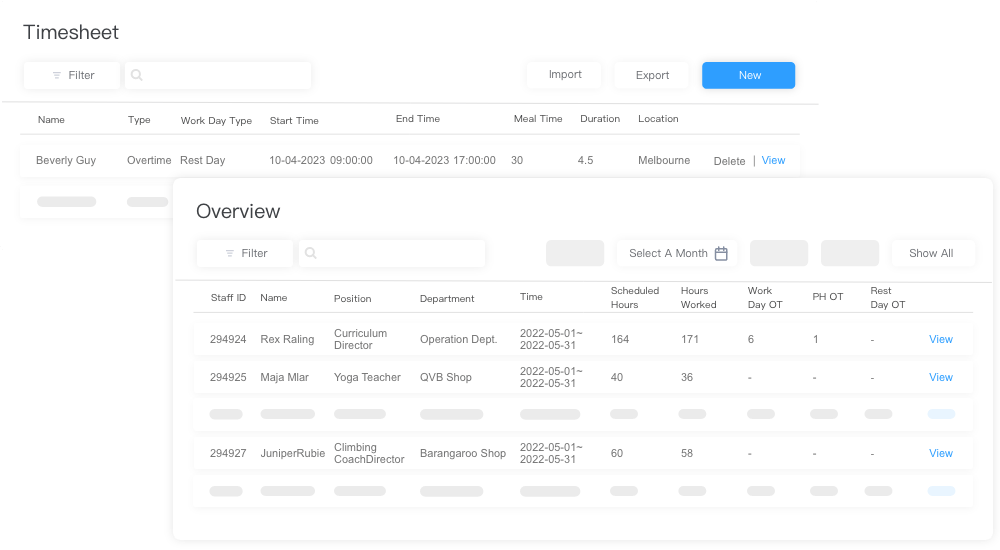 Easy payroll integration:
Workstem's AI Engine automates attendance data capture, eliminating the need for manual interpretation and data entry.
By setting up award rules, the AI Engine accurately calculates attendance data, saving you time and effort.
The integration of Workstem with your payroll system further simplifies the payment process, ensuring that your employees are compensated correctly and on time.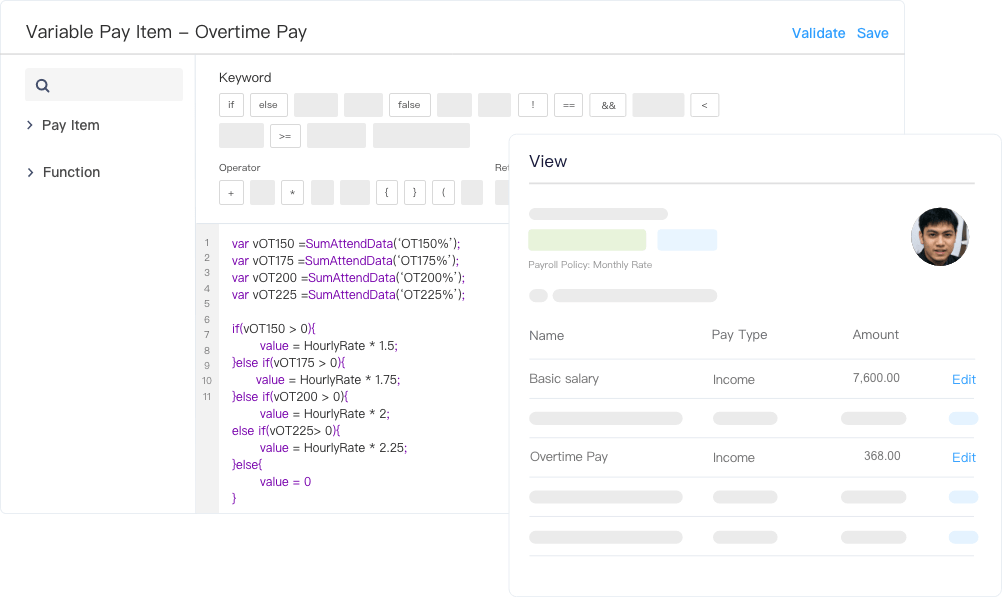 Why choose Workstem's Award Interpretation Software?
Simplify your HR processes and ensure compliance with Australian labour laws using Workstem's award interpretation software. With its reliable and user-friendly platform, you can reduce administrative burdens and streamline your payroll and HR tasks.
Workstem offers customizable attendance formulas and serves as a one-stop solution for all your payroll and HR needs. Experience the transformative impact of Workstem's software by signing up for a 14-day free trial today.